1951 - 1970 Fallen Heroes
Patrolman Alan Sroczynski
Fallen Heroes: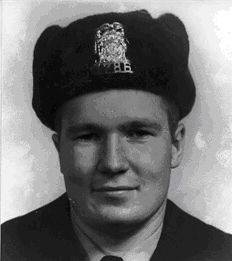 Alan Sroczynski
Appointed:
January 3, 1966
Deceased:
November 8, 1970
About 6:30 p.m on November 8th, 1970, Patrolman Alan Sroczynski and his partner took a prisoner to the Safety Building. Patrolman Sroczynski, who was driving, had just pulled up onto the ramp leading out of the police garage. As he started to drive north across State Street, a westbound car struck the police van.
The impact of the crash spun the police van around several times and Patrolman Sroczynski was thrown from the vehicle. The van then caught one wheel on a curb and toppled over, crushing Patrolman Sroczynski.
Police who heard the crash and several witnesses rushed to the wagon and lifted it and pulled Patrolman Sroczynski from beneath it. He was taken to the hospital where he died 90 minutes later from his injuries.
Patrolman Sroczynski was 28-years-old and had been on the force for four years. He was survived by his wife, Ellyn, his parents and sister.
Patrolman George Fish
Fallen Heroes:
George Fish
Appointed:
March 19, 1962
Deceased:
September 22, 1970
Patrolman George Fish died on September 22, 1970, of a massive infection, one month after being wounded in a shootout during a holdup at the Ranch House Tavern at 1900 W. St. Paul Avenue on August 21st.
Patrolman Fish was struck in the chest by a .38 caliber bullet that had passed through the body of one of the suspects. In the heat of battle with the armed suspects, Fish's partner fired the shot as one of the suspects aimed a shotgun at him.
Patrolman Fish was 29-years-old and had served with the Milwaukee Police Department for eight years.
Officer Bryan Moschea
Fallen Heroes: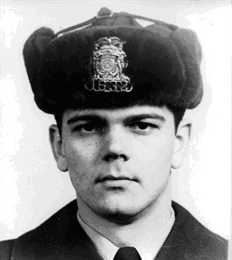 Bryan Moschea
Appointed:
October 4, 1965
Police Officer Bryan Moschea died on July 31, 1967 after being shot while entering a home near N. 1st Street and W. Center Street, in an attempt to apprehend a sniper who had been shooting at police and neighbors from an upstairs window during the 1967 civil unrest.
Officer Moschea was 24 years old. He was appointed to the Milwaukee Police Department on October 4, 1965.
Patrolman Ronald T. Hogan
Fallen Heroes: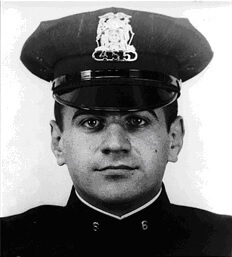 Ronald T. Hogan
Appointed:
August 11, 1952
At approximately 12:25 p.m. on May 2, 1967, Patrolman Ronald Hogan and his partner responded to a domestic disturbance, called in by a neighbor in the 1800 block of N.29th Street, at the same address they were at just a few hours earlier.
When Patrolman Hogan announced "We're the police," the suspect fired a round from a .30/06 rifle through the closed bedroom door, fatally striking Patrolman Hogan in the neck. Patrolman Hogan's partner returned fire from his service revolver, killing the suspect.
Patrolman Hogan died on the scene. He was 36 years old with 15 years of service at the Milwaukee Police Department. He left behind a wife and three children: a son, age 8, and two daughters, ages 11 and 13.
Officer James J. Rivers
Fallen Heroes: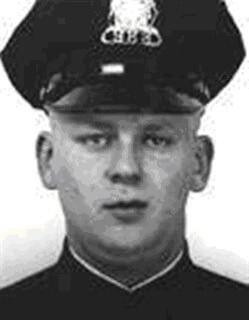 James J. Rivers
About 2:15 a.m. on March 21, 1966, asuspect robbed the operator of a rooming house at 511 W. Galena St., where he once stayed. The suspect then went to his sister's house at 3457 N. 13th Street. Knowing who the suspect was, the operator called police and the man's sister and told her what had happened. When the sister refused to let her brother in, he fired two shots into the air and left.

Officers saturated the area. Officer James Rivers saw the suspect attempting to get into a taxi in the 1100 block of W. Burleigh Street. Officer Rivers called the man over to the squad car where they had a brief conversation and the suspect went back towards the taxi. Then Officer Rivers called him back to the squad car and told him to put his hands up. As the suspect did, he pulled a gun and shot Officer Rivers who returned fire. The suspect was hit in the chest. As another shot was fired from the suspect, Officer Rivers fell to the street.

The suspect fled into an alley and tried to hide behind a utility pole, his pistol still in his hand, but was later captured by other officers.

Officer Rivers died at County General Hospital at 8:20 a.m., about five and a half hours after a bullet from a .38 caliber ripped through his forehead.

Officer Rivers was 26-years-old and had joined the Milwaukee Police Department as a police aide in 1957. He became a police officer in 1961. He had two children, a son, 5, and a daughter, 4. His wife was about six months pregnant at the time of his death.
Patrolman Robert Kraemer
Fallen Heroes: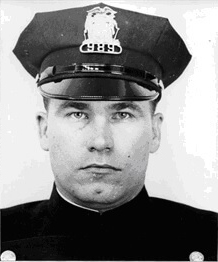 Robert Kraemer
Appointed:
February 22, 1960
Deceased:
February 7, 1963
On February 7, 1963, Patrolman Robert Kraemer heard a call on the radio for the police ambulance to respond to someone pinned in a taxi after it struck a tree on N. Prospect Avenue. Patrolman Kraemer decided to respond on his motorcycle to assist.
Patrolman Kraemer was eastbound on E. Juneau Avenue on his three-wheel motorcycle when he collided with the ambulance heading south on N. Van Buren St. It is unclear why the two did not see or hear each other. Patrolman Kraemer was thrown 125 feet from his motorcycle and landed in the middle of N. Van Buren St. He was rushed to County Emergency Hospital where he was pronounced dead.
Patrolman Kraemer was 31-years-old and had been with the Milwaukee Police Department two weeks short of three years. He was survived by his wife Diane and four children: Kerry Lynn, 9; Robert Jr., 7; Duane, 4, and Timothy, 2.
Sergeant Raymond A Nencki
Fallen Heroes: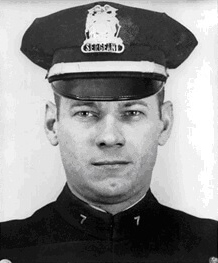 Raymond A. Nencki
Appointed:
January 2, 1948
Deceased:
October 5, 1959
Sergeant Raymond Nencki died on October 5th, 1959 at County General Hospital after a two-week fight for his life. On September 23rd, police were called to N. 63rd Street and W. Capitol Drive because of a man behaving oddly, going door-to-door. When approached by police in the alley, the man pulled a gun and shot Sergeant Nencki twice. His partner was able to return fire, killing the man. The suspect was later identified as the man who killed the wife of the vice-principal of Brown Street School a day earlier.
Attending physicians said Sergeant Nencki's death was due to an infection that set in almost immediately after one of the two .38 caliber bullets had torn through his colon. Sergeant Nencki received 72 pints of blood in transfusions.
Sergeant Nencki was 38-years-old and had served with the Milwaukee Police Department for 11 years, following his service in the Army. He was promoted to Sergeant on November 7, 1953. Sergeant Nencki was married and had a step-daughter.
Officer Vernon White
Fallen Heroes: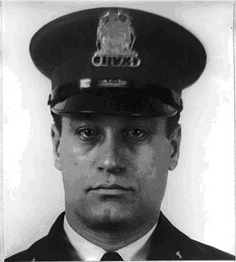 Vernon White
Appointed:
August 11, 1941
Deceased:
November 10, 1951
On November 10, 1951, the air raid sirens wailed during a mock air attack on the city. Twelve motorcycle officers were assigned to take off in all for directions from the Safety Building during the civil defense drill. Officer Vernon White and two other officers were assigned to cruise the lower east side.
The three traveled east on W. State Street with their lights and sirens on. When they approached N. Edison Street, the first motorcycle went through the intersection. As Officer White entered the intersection, a half-ton scrap truck heading southbound also entered the intersection. Officer White hit the brakes and swerved to avoid the truck but hit the right side of it. He was thrown about 20 feet from the bike.
He was semiconscious in the street and taken to County Emergency hospital. He suffered serious internal injuries including broken ribs and a punctured lung. Officer White died two hours later with his wife Agnes at his side.
Officer White was 38-years-old and had been with the Milwaukee Police Department for ten years. He left behind four daughters and his expectant wife.