Recent Artifacts Donated
Artifacts donated to the Milwaukee Police Historical Society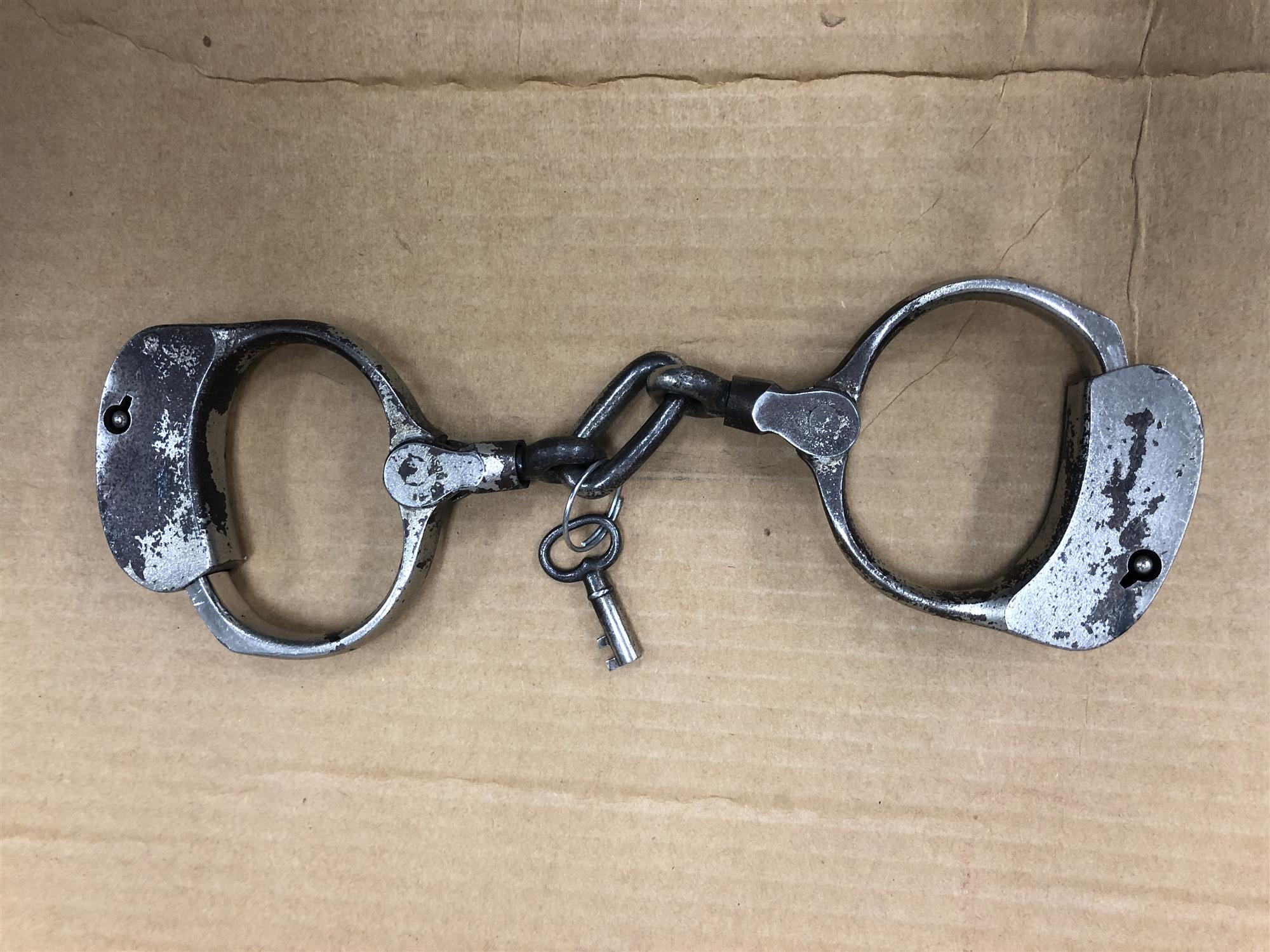 Markings- "Iver Johnson Co Boston"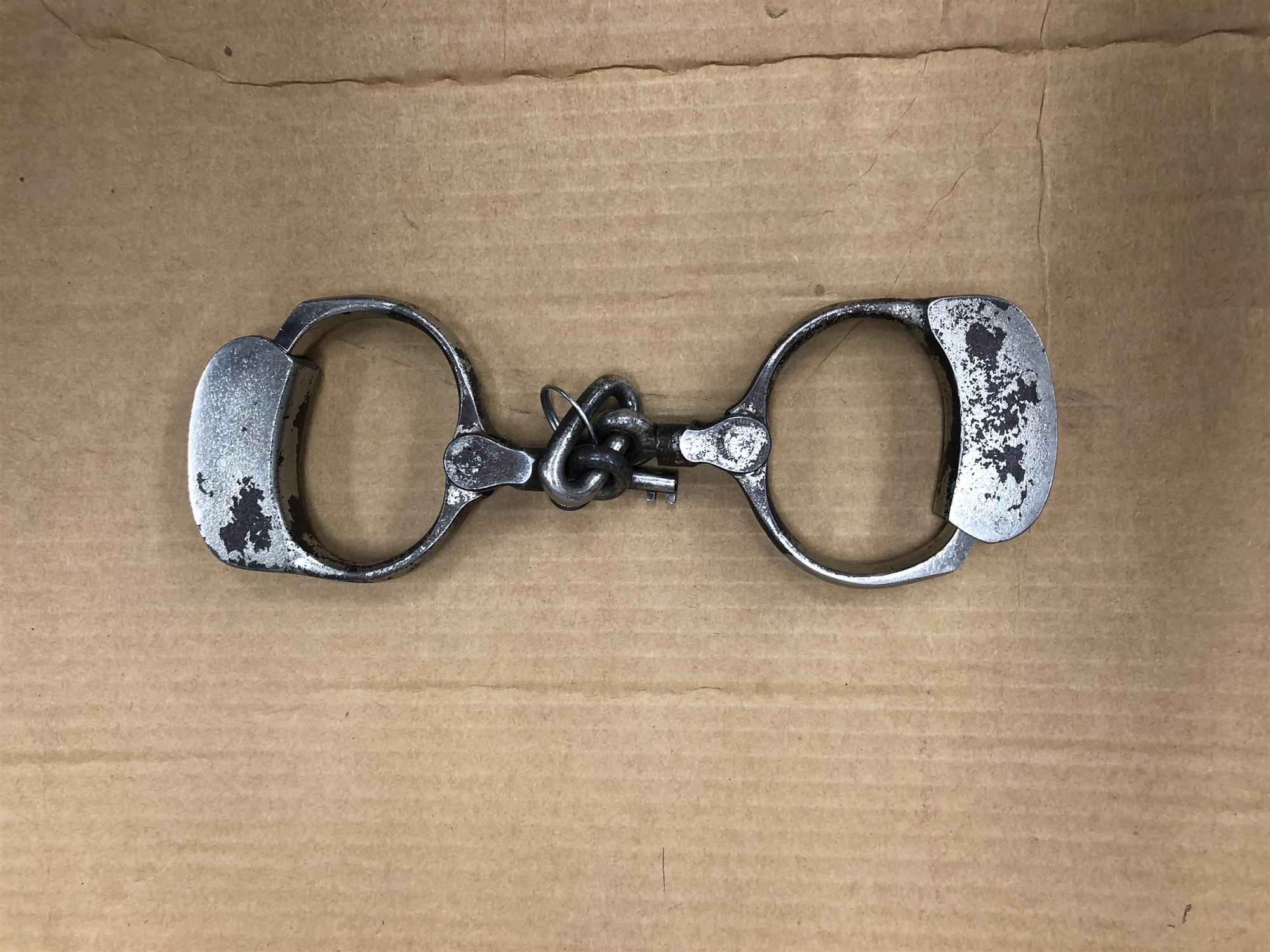 Notice that the locking device is located on the outer portion of the handcuffs.
This set was used to secure the wrists of a detained person and was first used in 1880's.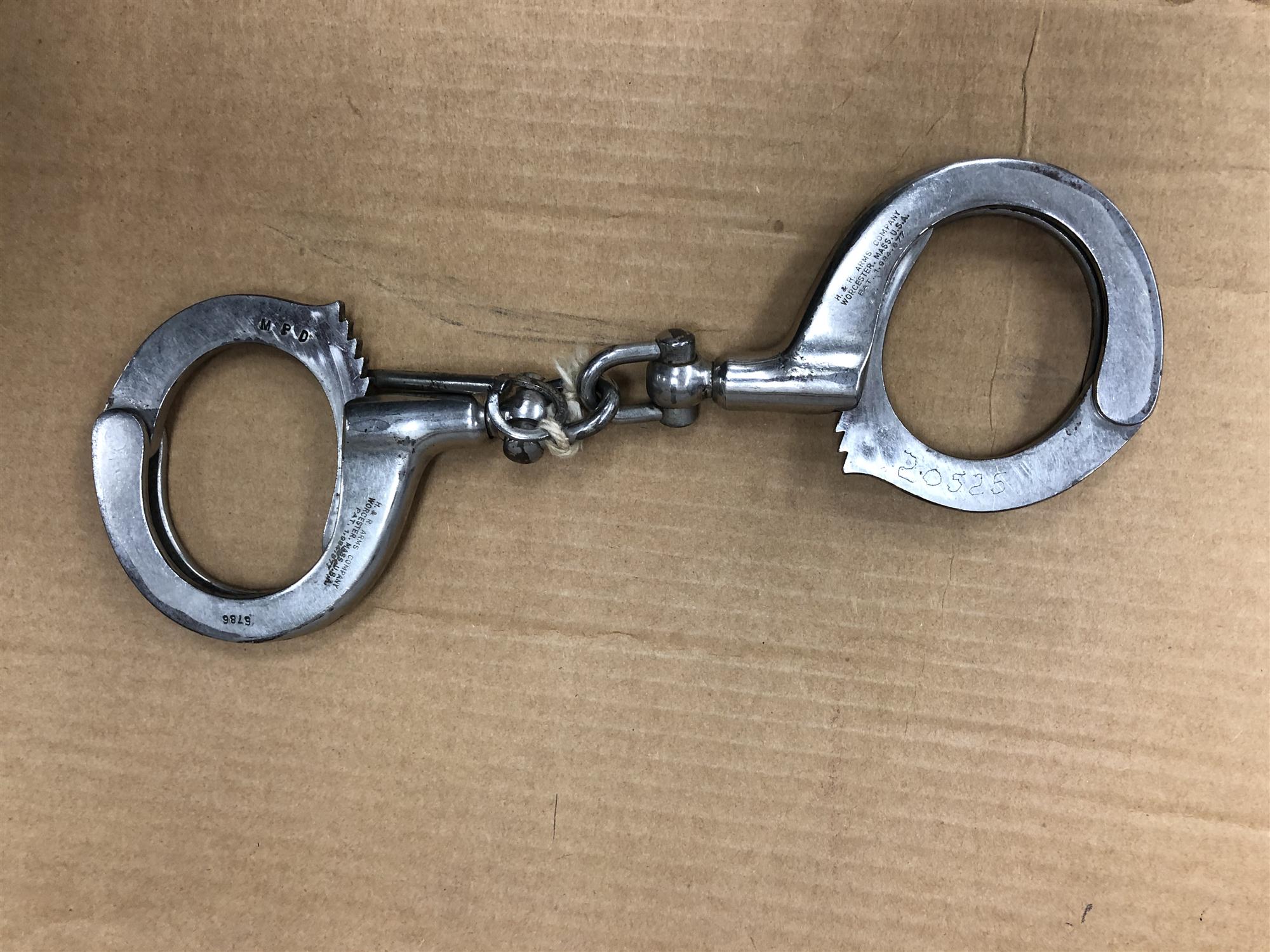 Markings "H & R Arms Company, Worcester, Mass. U.S.A. Pat 1,984,677"
Stamped "M P D", "5786", "20525"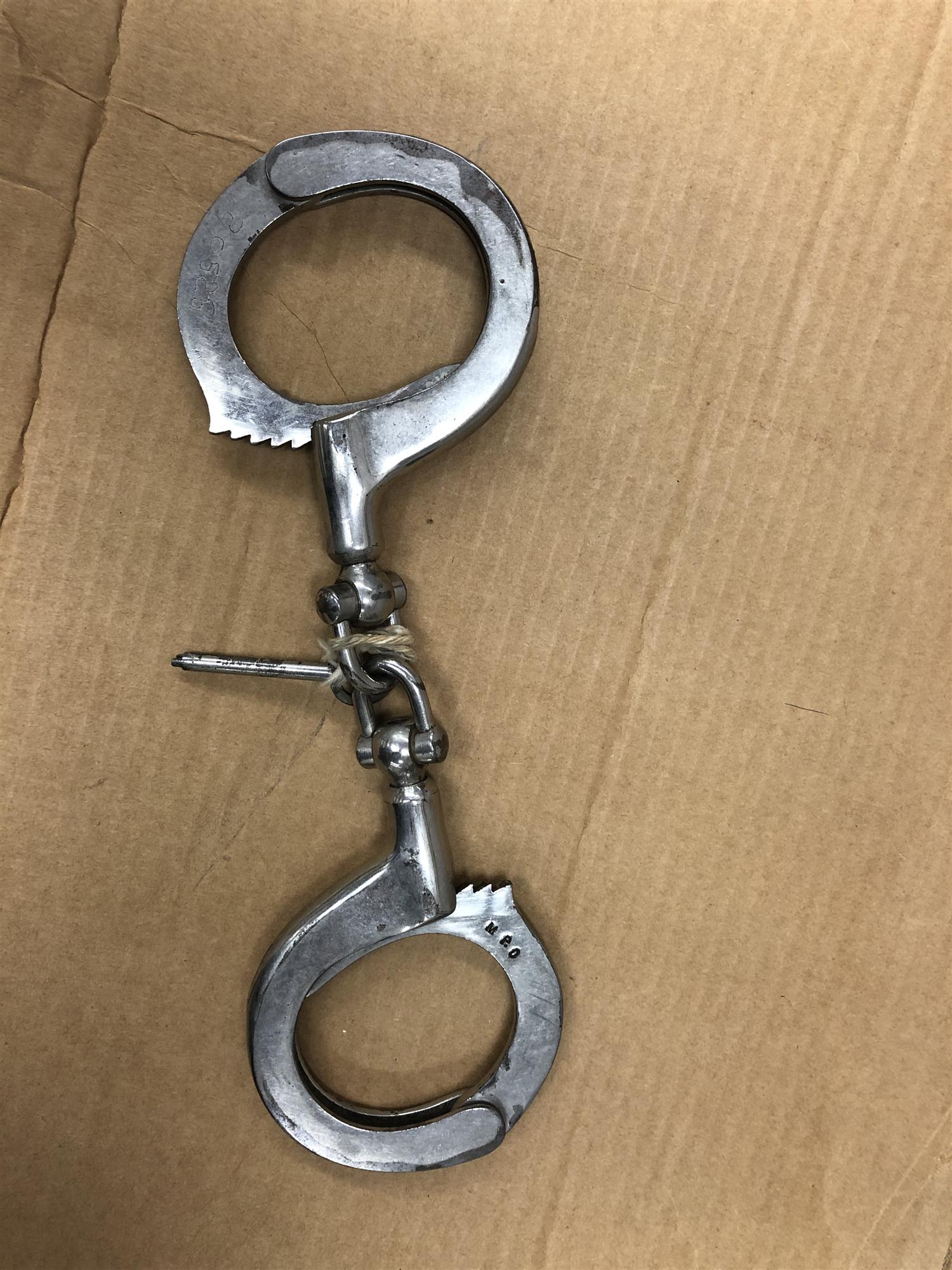 These Harrington and Richardson Arms Company handcuffs were used in the early 1900's.
The markings indicate that they were used by Milwaukee Police Department officers.
Note the locking/unlocking mechanism is located in the chain link area.
Argus "Iron Claw" Come Along Restraint circa 1935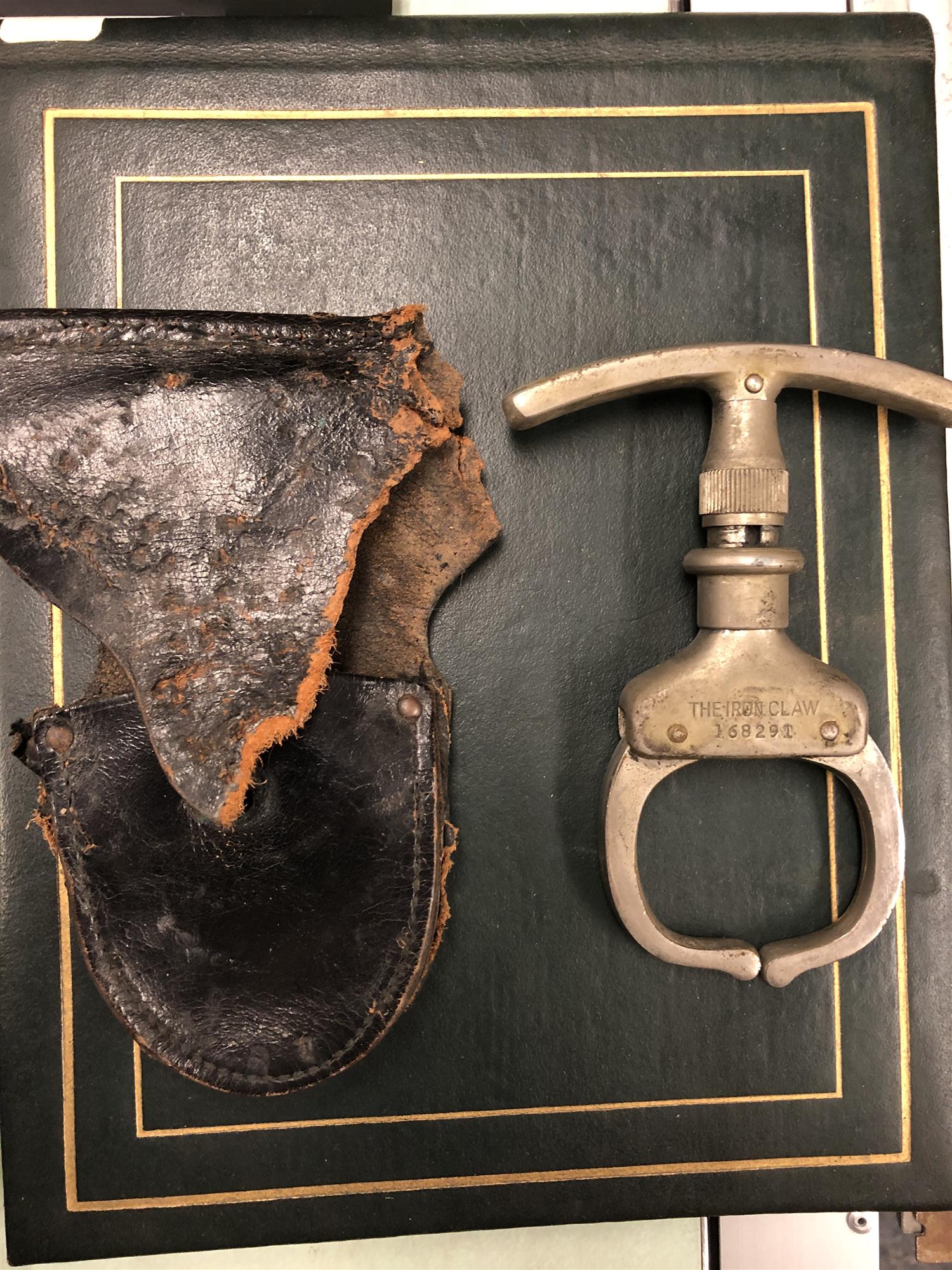 Donated officer's case and restraint- used by a Milwaukee Police Officer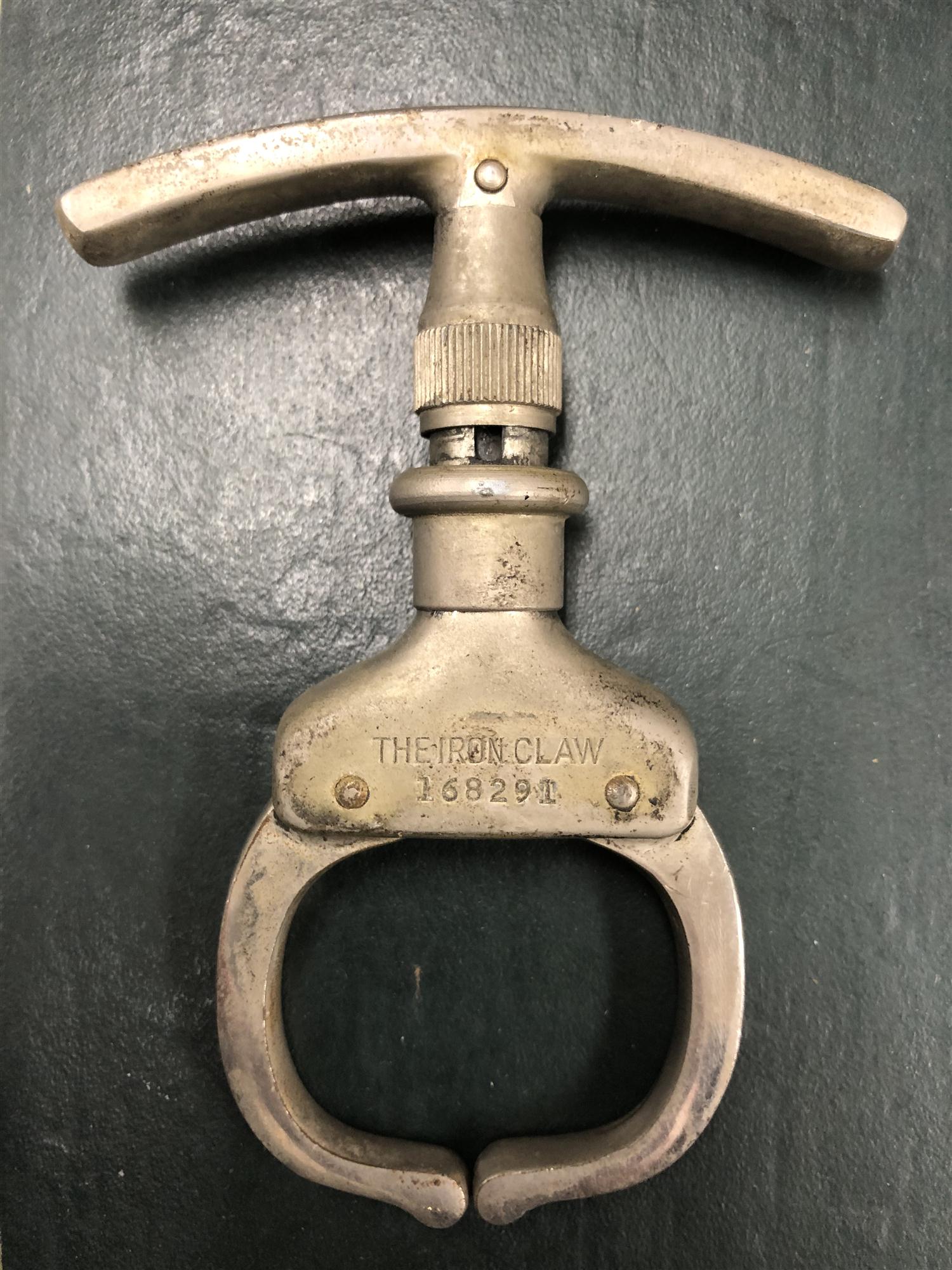 Markings " THE IRON CLAW" "168291"(serial number) -Side 1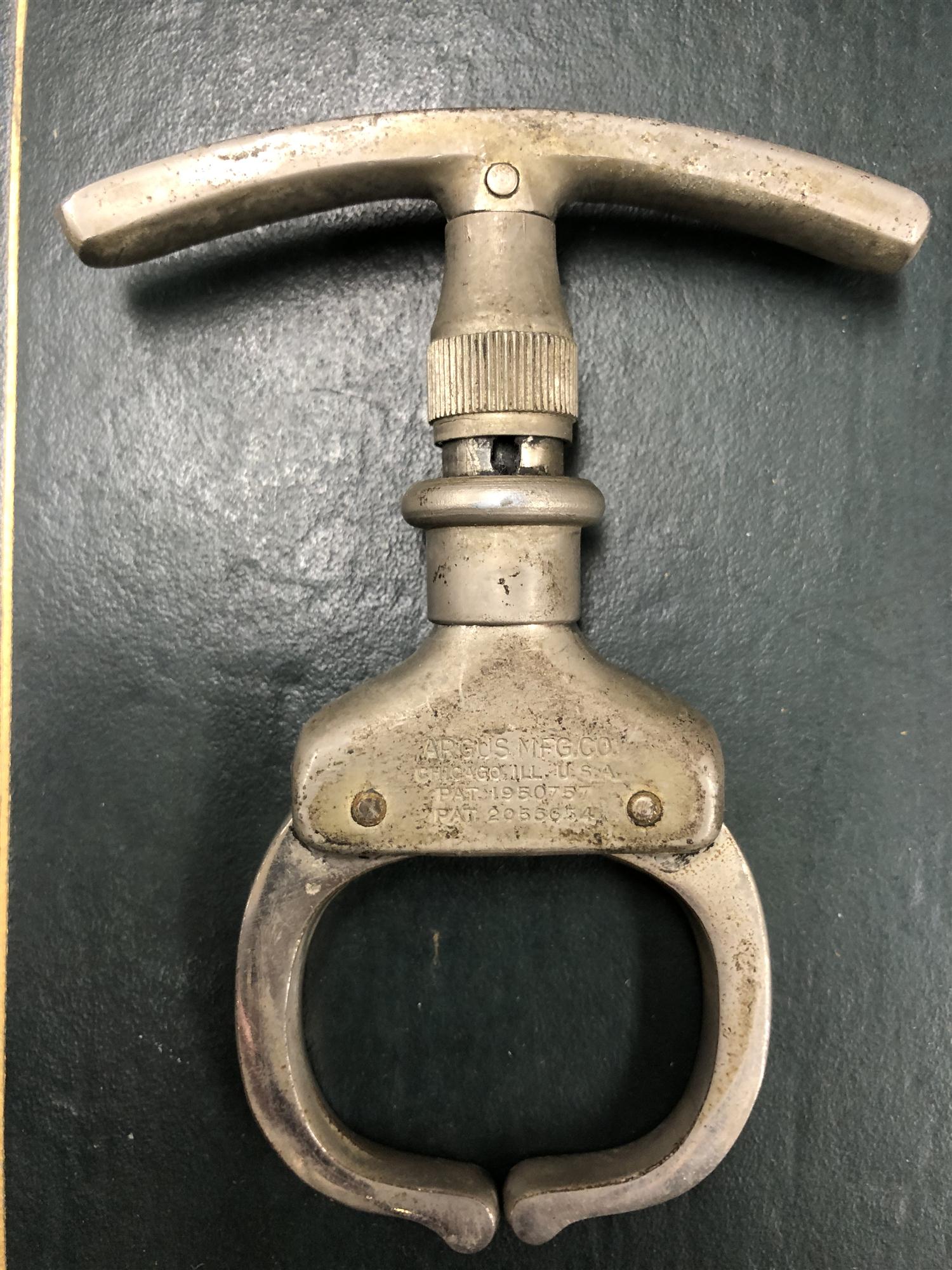 Markings "Argus Mfg. Co. Chicago, IL USA"
"Patent 1950757 2066654"
Information: The Argus Mfg Co Iron Claw was invented by Yngve Smith-Stange in 1931. The come along was preferred by police for more than thirty years. The come along was considered to be a great tool for restraining people. In one move the restraint could be pulled from it's belt holster, opened, and placed on the person with a quick turn of the T-handle. With a couple of turns of the threaded locking sleeve and the person was ready for transport. The donated restrain was produced in 1935. The earlier versions had the ratchets exposed which were sharp and caused injuries. As displayed, the ratchets are not visible. The patent information suggested that the Iron Claw could be used as a striking mechanism.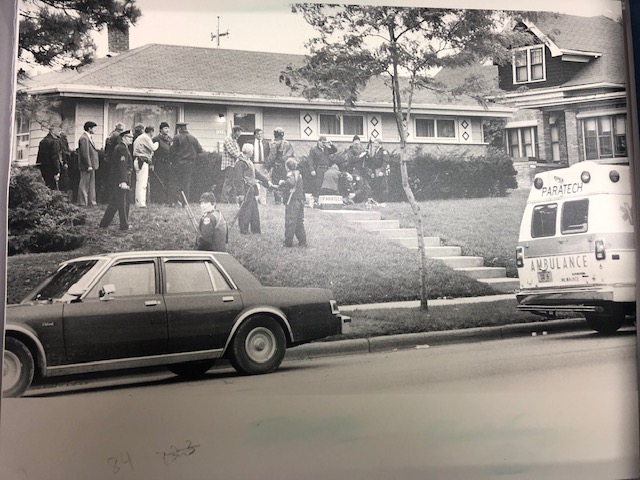 Donated Framed Press Photograph of Tactical Deployment (1/7)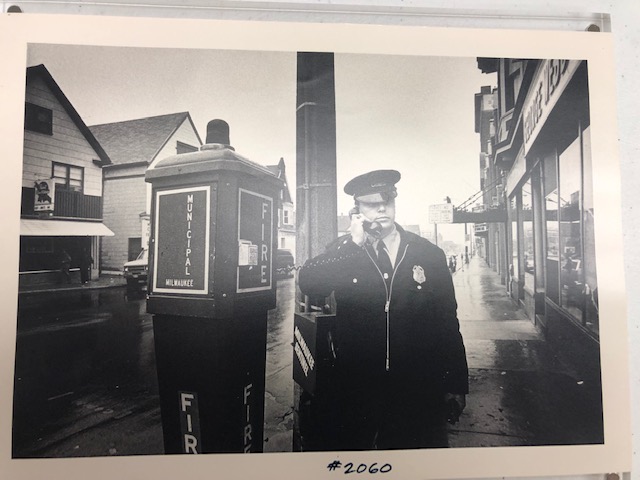 Donated Framed Press Photograph of Milwaukee Police Officer at Call Box (2/7)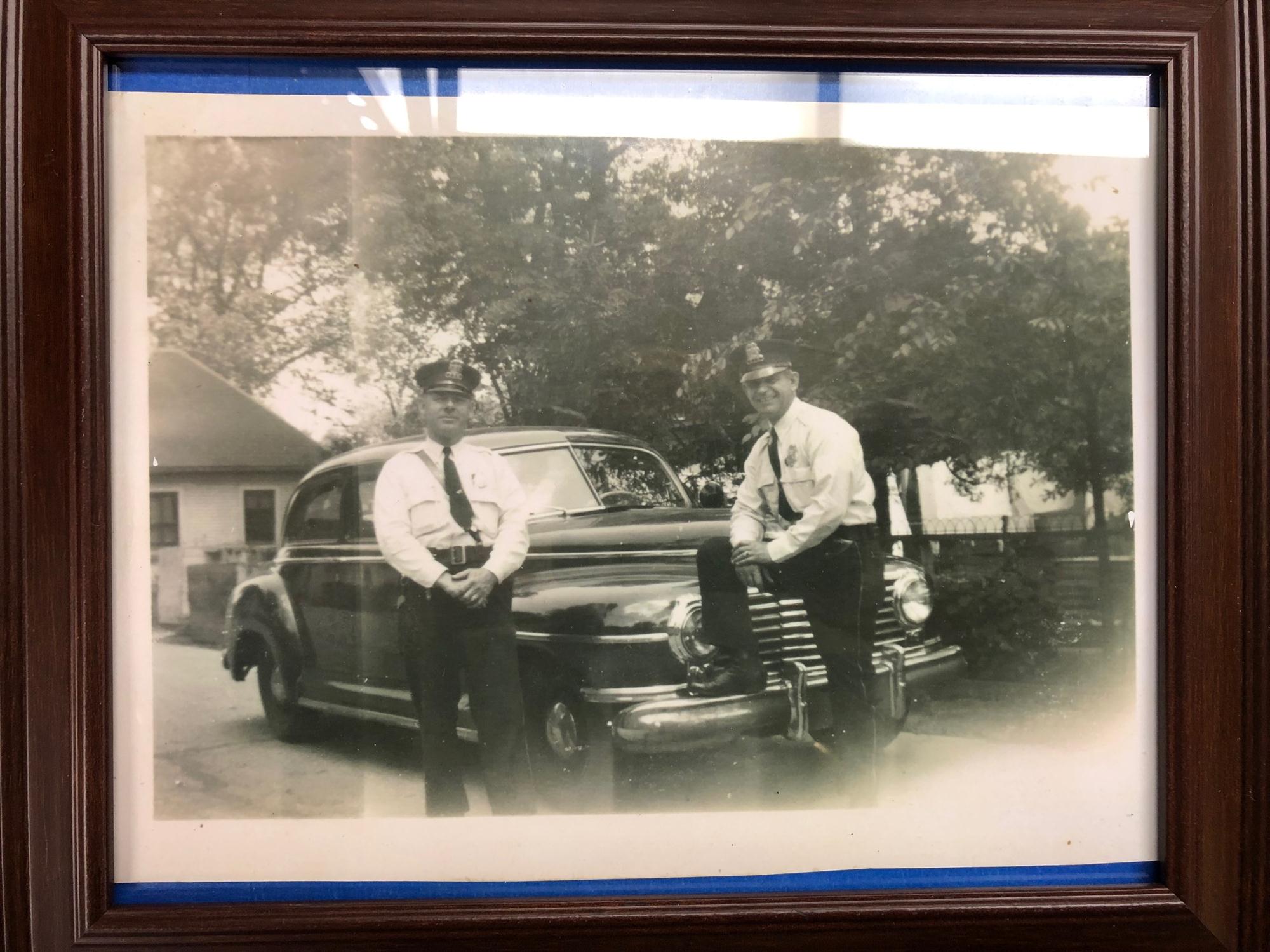 Donated Framed Photo taken on 6/23/1945 of Milwaukee Police Officers George Harmeyer & Richard Jeske in Squad #60 (3/7)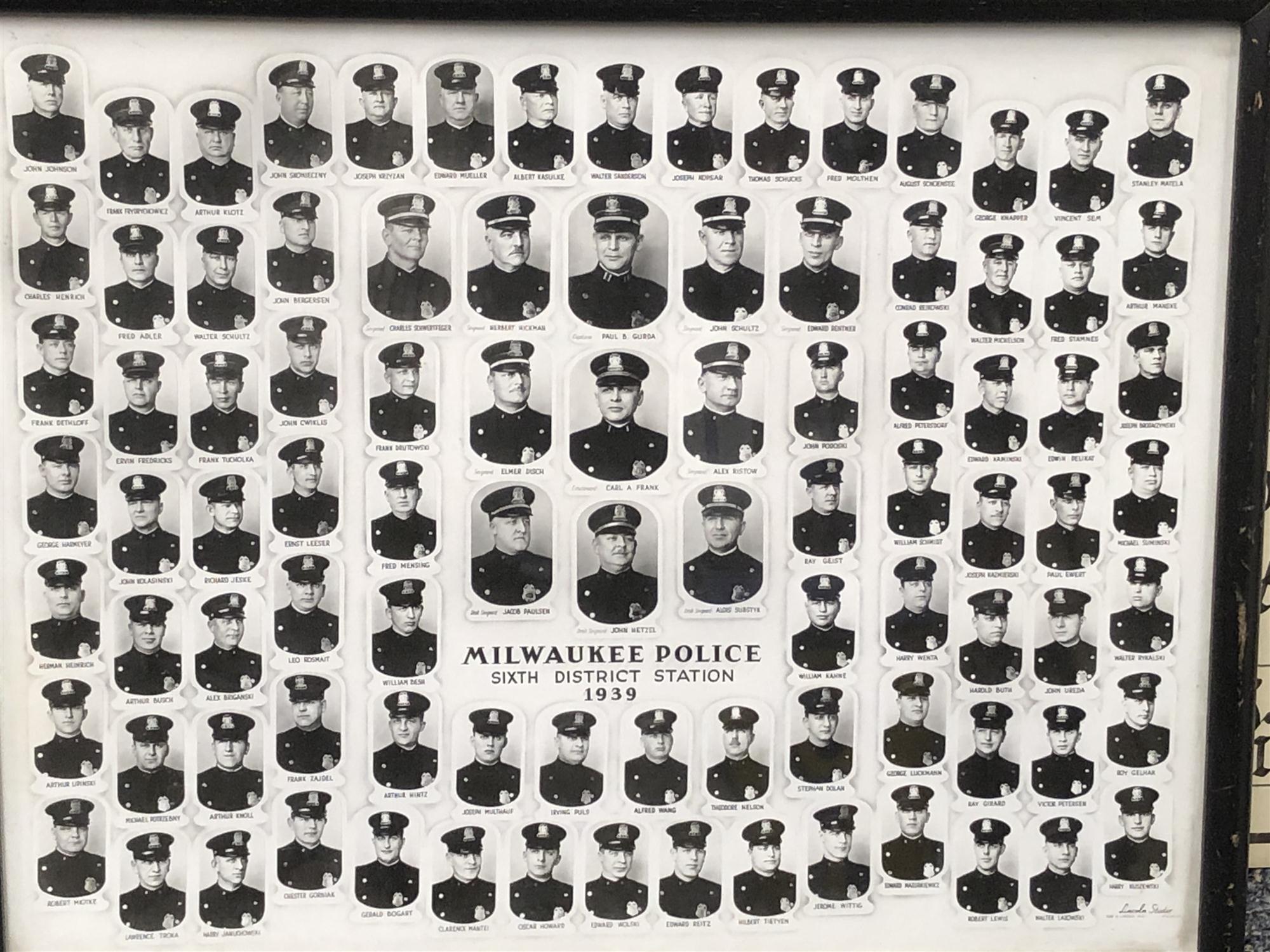 Donated Framed Photo taken in 1939 of District 6 Officers and Supervisors including Officer George Harmeyer (4/7)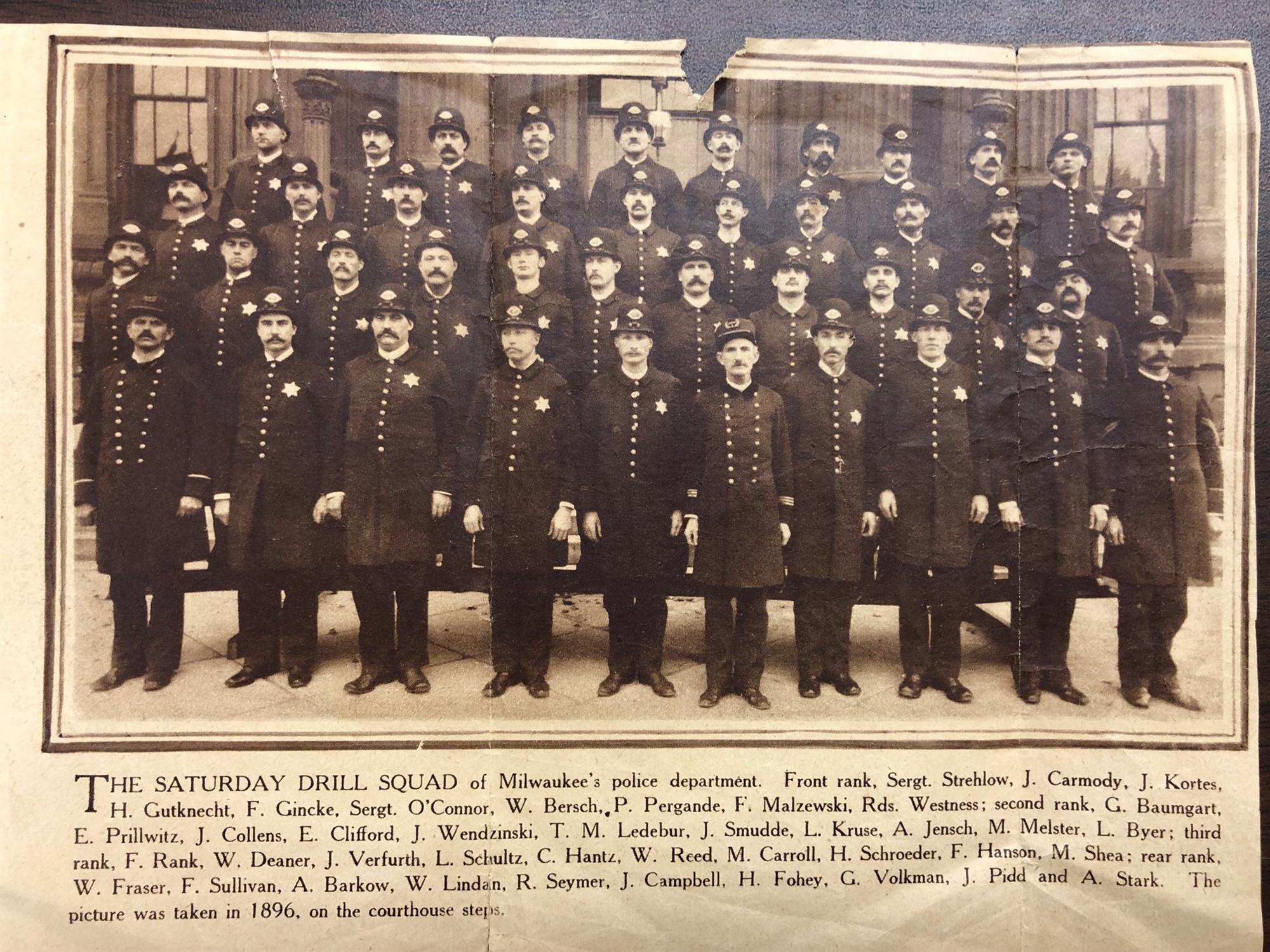 Donated Newspaper Photograph of 1896 Saturday Drill Squad of Milwaukee Police (5/7)
Donated Framed Photograph of Milwaukee Police Officers with marked squad in front of Fisco Auto Painting (6/7)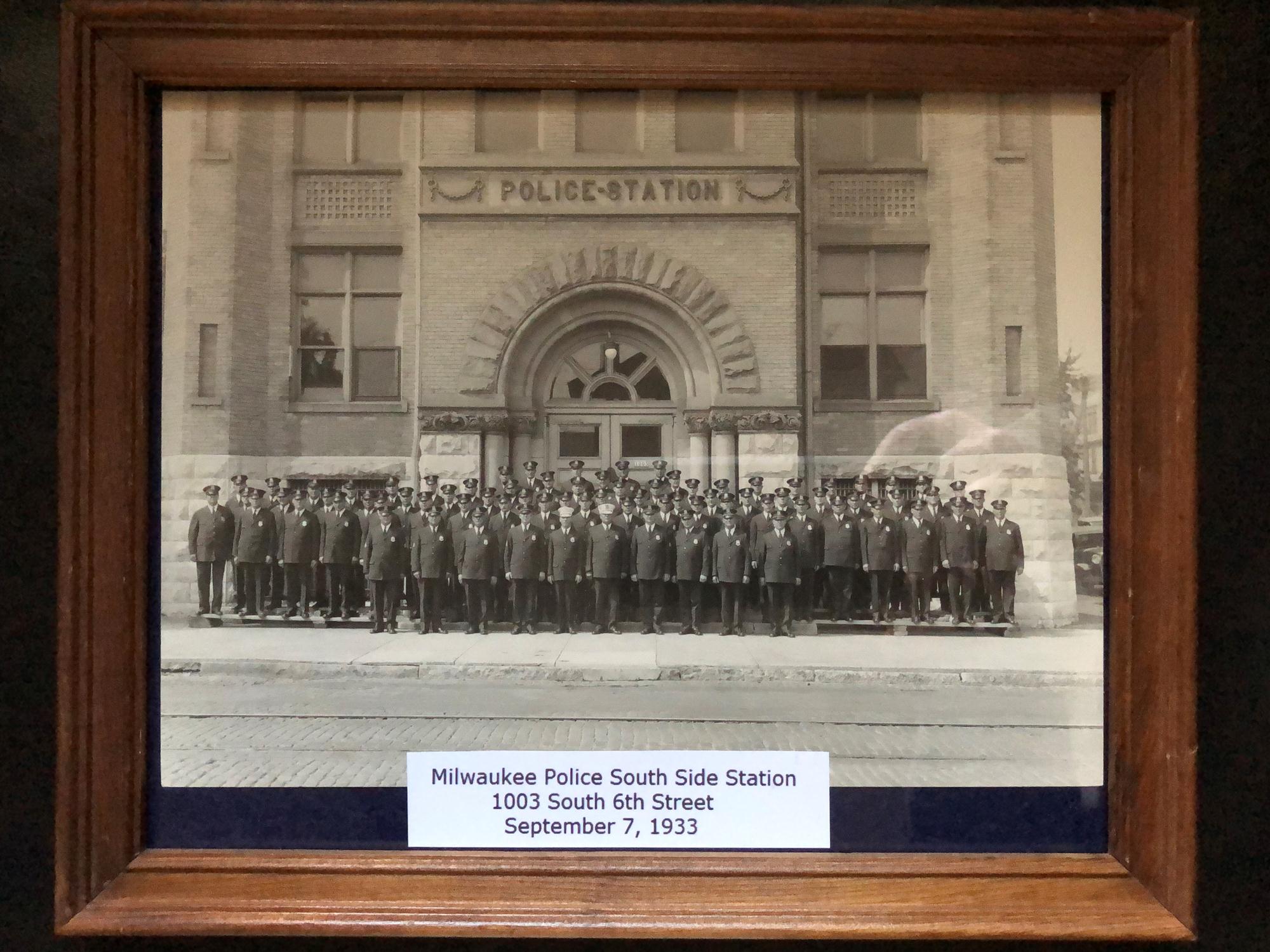 Donated Framed Group Photo of Milwaukee Police Officers in front of the South Side Police Station Sept, 1933 (7/7)